Advantages of Buying Canadian-Made Furniture
Chances are if you've come to Anne Quinn furniture you're already thinking about buying local solid wood made in Canada furniture. As a furniture business that started out importing furniture from Indonesia and now ONLY sells made in Canada furniture I'm telling you are making the right decision buying local.
High-Quality Furniture
With imported furniture a large part of the cost, is shipping, packaging, stocking and storing inventory and paying for damaged products. The cost of the import furniture is lower (because of cost of the cost of labour) but when you factor in the additional expenses the price of the import isn't much less expensive than buying locally.
In contrast with local made in Canada furniture the majority of the costs are for the quality lumber and the craftsman to make the furniture.
Also, with the imports the goal is to ship as much furniture into a small space as possible. So, the goal is to create knock down furniture. An example, is a dining chair where the legs are bolted on instead of a fully assembled chair that made here with mortise and tenon joinery. If you compare the work and craftsmanship of a local piece compared to an import there really is no comparison.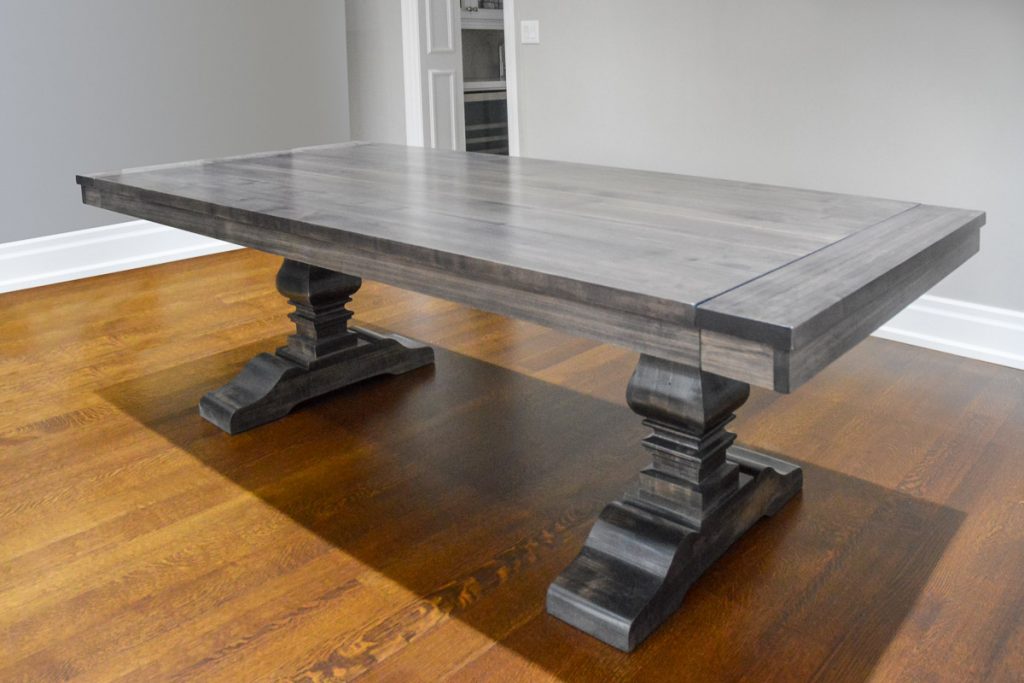 The imports often also rely on building their pieces with particle board and veneers instead of solid wood. Solid wood that comes from other countries to Canada needs to acclimatize to our dry Canadian winters and hot humid summers which can cause issues with warping and or cracking. If you compare the natural beauty of solid wood to a plastic looking veneer there really is no comparison.
An added bonus with local is if there is an issue, you contact us and we will bring the piece back to the supplier (that is a couple hours away, not half way around the world) to fix it.
Going local allows for customization
High-quality furniture lasts for a lifetime if you take proper care of it. And if you're going to own a piece of furniture for that long, its style and design should be something you can call your own.
When you buy Canadian-made furniture, you'll love the high degree of customization that we offer. From size to stain to finish. You can truly make a piece of furniture that not only fits your space perfectly but its style is unique to you.
Supporting the Environment
Choosing locally-made furniture also means you contribute to sustainable and environmentally friendly furniture production.
Our suppliers use eco-friendly materials to create the perfect furniture for you. These materials include:
• Responsibly harvested maple, cherry, and oak
• Organic cotton fabrics
• Solid wood with no veneer or particle board and synthetic glue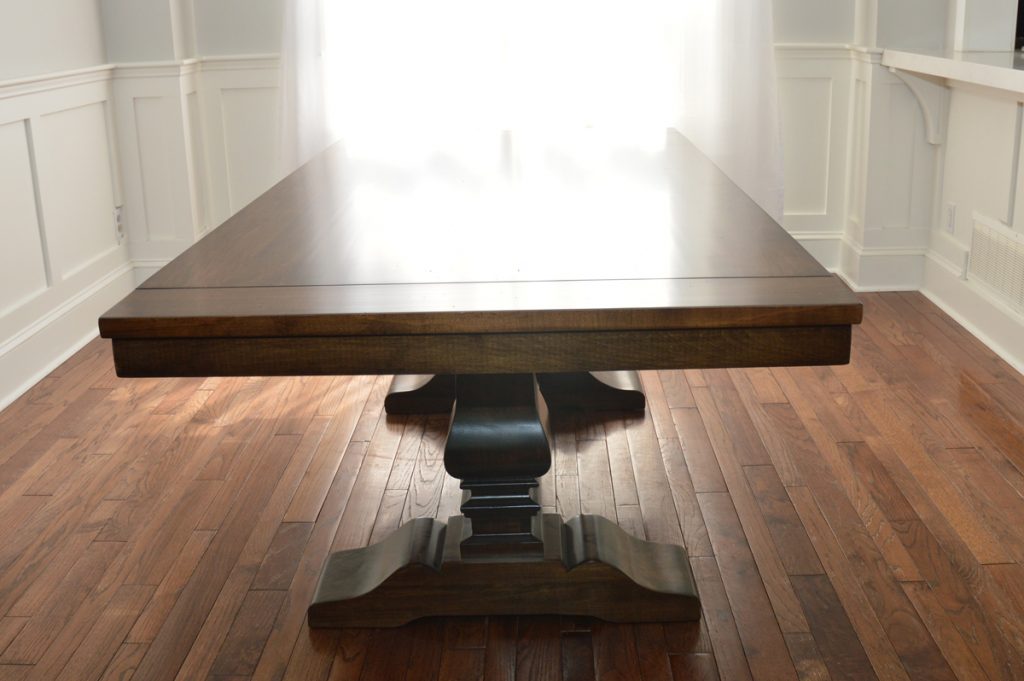 Also, the government supports the eco-friendly movement. Logging restrictions are much stricter in Canada than in other major countries.
Transportation also plays a role. Buying overseas means more you or the manufacturer will transport the product and use more resources.
And transportation like this is one of the major causes of global warming. Ships generally produce a large amount of carbon dioxide.
According to EU data, international shipping accounts for 3.15% of carbon dioxide transport emissions in 2017.
When you buy furniture locally, you help alleviate the environment's problems; you help protect the environment while also getting a perfect piece of furniture.
Supporting the local Economy
The Canadian furniture industry is 97% Canadian-owned. Most of them are small or medium-sized, family-owned businesses.
When you buy local, you don't only support a significant portion of the Canadian economy; you also support the families and workers working in those Canadian-owned manufacturers.
With COVID, our local suppliers are busier than ever. More people are realizing the importance of buying local.
Better Community
Buying local also fosters a greater sense of community both for the buyers and the manufacturers.
As mentioned, the vast majority of Canadian manufacturers are family-owned and operated (just like us!). So when you buy from these manufacturers, your purchase supports the family.
You can then rest assured that we will take care of your furniture needs with a sense of close relationship in mind.
You'll enjoy a more personalized customer service experience, which is something you can't easily achieve when you buy furniture overseas.
That's also why Canadian furniture is always on style wherever you put them. Canadian designs range from classic style to modern, and will always be in style whatever the year is.
Buying Furniture Made in Canada
Overall, the advantages of choosing Canada-made furniture over imported ones include better value, superior quality. You also support the environment and the economy. Our suppliers being busier than ever makes me believe that more and more people understand the benefits in buying local Canadian made furniture.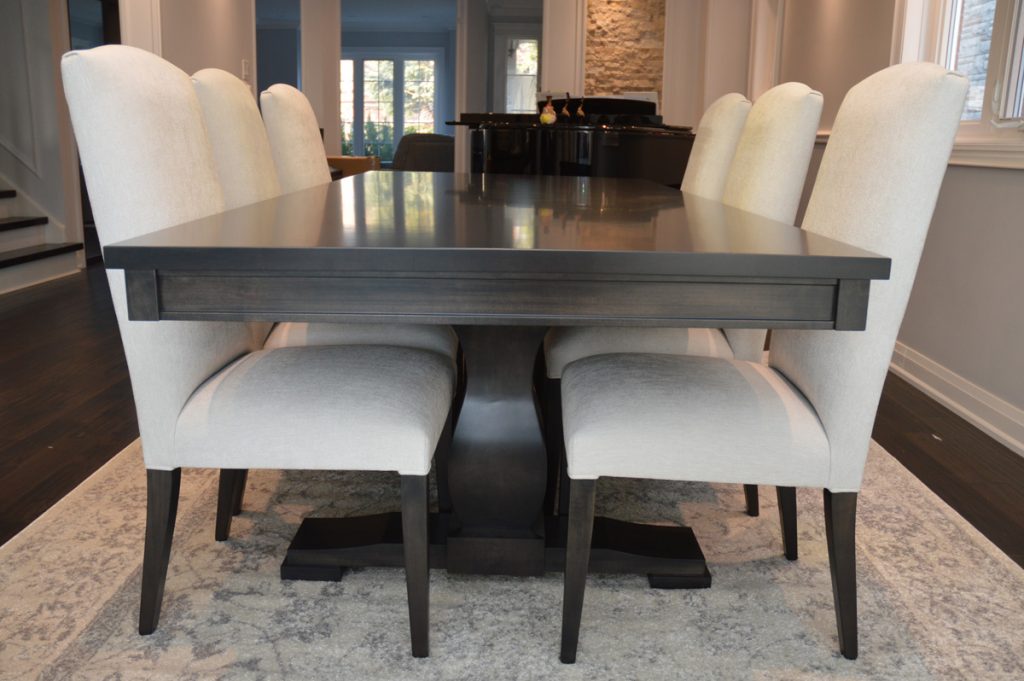 If you're searching for the best furniture around, look at Canadian furniture stores first. Not only are you going to enjoy the superb quality, but you'll also be doing something bigger than simply buying a piece of furniture.
Why Choose Anne Quinn
If you're sold to buying locally-made furniture, Anne Quinn will be a great choice for you.
Anne Quinn isn't your average furniture retail store; What we offer is solid wood, handcrafted furniture at our showroom in Markham. There we showcase the best in classic and modern furniture in Canada. We keep the quality high and the overhead low. We pass on that savings to you. You, our consumer, is what we care about the most. We look forward to meeting you in person.
Visit our contact page to setup an appointment today.