Contact Us
The next step is to book an appointment.
Call us at 905-294-0655 or fill out the form.
Home Showroom location – by appointment only
248 Main Street North, Markham Ontario L3P 1Y7
*If using GPS, be sure to select Markham, NOT Unionville Our showroom location is a beautiful historic Markham home, set up to help you visualise how the furniture might fit into your own home. Directions:Look for our century buggy carriage the front lawn
West side of Markham Main Street (also known as Markham Road or Highway 48)
South of 16th Avenue
North of Highway 7
*If you see the signs for the Active Health Centre, we are just 2 doors south on the same side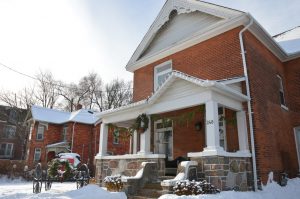 What to expect when you visit
When you visit our home showroom (just a 30-minute drive from downtown Toronto), you'll see our most popular designs of real-wood furniture pieces made by genuine craftsmen. What you won't see is machine-manufactured, plastic-looking, particle board and veneered "fake" furniture.No need to spend days searching through stores. When you visit, we'll spend time assessing all your furniture needs in the pleasant, relaxed atmosphere. You'll find no high-pressure, commissioned salespeople here. Sit down, take your time, and tell us how we can help you find the perfect pieces for the living space you want to create.During your visit, you'll get to see the quality of the furniture and select your fabric and stain. From there you can pick from our website or the Internet to find the perfect furniture pieces for you. If you need something immediately you can check In stock – New & Clearance.
You have two options for custom ordering furniture:
Made in Canada products take 8 – 10 weeks.  Christmas cutoff is October 22, 2018.  We put their most popular designs on our website.   If you can't find anything you like on our website, send us an email and we will send you our Canadian furniture supplier's website where you can pick from their many designs.  With the Canadian designs you must pick from the styles that they offer but you can customize the size and stain.
Solid Mahogany imported from Indonesia come approximately every 6 months. The next one we expect to arrive early 2019.  Always check our in stock new and clearance section of the website.
Get a custom price quote
If you can't find the furniture you want on our website you can search the internet.  Google image search is a great place to look, or Houzz, Pinterest, Google are great places to look.  With replication it can only be done in Indonesia.
Here's what I need from you:
Link to furniture item you are interested in
Dimensions
Before you ask for a quote, please check our website for a comparable item so you can get an idea of our pricing.