Have you been eying our gorgeous round tables for a while now? If you're not quite sure whether a round dining or kitchen table is a good match for you, you've come to the right spot.
This table shape is so unique, looks fabulous wherever you place it, plus comes with a ton of other advantages. Below, you can get familiar with the reasons why you should purchase a round table, how to choose the right size, and find the answers to all the questions that might come to mind.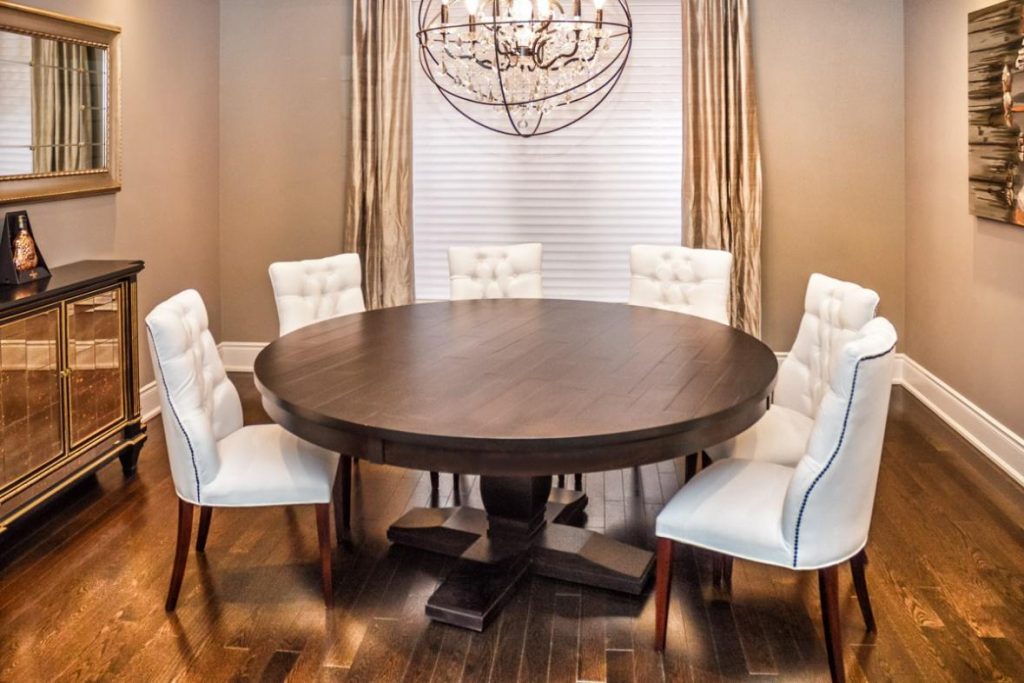 6 Reasons Why A Round Table Might Work Better For You
You've been thinking about getting a round table for a while, but you're not 100% convinced? Go over these pros below, and you'll see that it's the best decision you'll make. This table shape might not be as common as rectangular, but you should use that to your advantage.
Conversation-starter: Don't you hate it when you can't hear people talking while you're having dinner? This will never be a problem if you go for this table shape. Everyone is equally distanced from each other, so you'll always be a part of the conversation!
Space-saver: These tables work best in square or close to square rooms. If are working with a square space, this table shape is ideal for you!
Kid-friendly: Round tables don't have sharp edges, so if you have energetic toddlers at home, your table will not be a hazard.
More legroom: Round tables come with a single base. That leaves more legroom for everyone and a more comfortable experience.
Game night: These tables are ideal for gatherings with your friends. Take out the board games, cards, snacks, and you're ready to go.
Less crowded: when you opt for a round dining or kitchen table, the food and the guests are equally spaced apart. Everyone will feel less crowded, and you'll find it much easier to reach the food and drinks.
How To Choose The Right Size
To figure out which is the right size table, you need to know the room's size and the number of people that will sit on the table. The estimated space that each guest needs to feel comfortable while sitting on the table is between 24 and 30 inches. You don't want to end up bumping elbows with your family while having lunch.
To answer the question, a 40" table will fit 4 people, a 48" table will fit 5 to 6 people, and a 60" table will fit between 6 and 8 people.
Tables larger than 72" are an option, but they don't offer the intimacy and the comfort smaller sizes do. You might find it hard to reach for food and drinks while seated at a large table. Thankfully, our round tables are extendable, so you get a chance to get more than one size in a single table.
FAQs
Can you add extensions to your round tables?
Yes, we offer the option to add extensions to your table. You can get up to three extensions, each one 12". It all depends on what you need and the size of your family. Don't forget that adding multiple extensions means using a more extensive base. Most table sizes are fine with two extra extensions, but if you add more, they can get tippy. If you need help with your choice, reach out to our representatives, and you'll get all the answers that you need.
What is the advantage of adding extensions?
Let's start with the most obvious one- extra space! If you have friends and family coming over, you can get a round table for 6 or a round table for 8 in a matter of minutes. For example, if you own a table for 4, add two 12" center extensions, and voila, it will fit 6 people!
Another reason why an extendable round table is a good idea is if you're planning on expanding your family. If the initial size works better for the space, but you'll probably need an extra seat or two, here's the best solution.
Extensions are fantastic for smaller spaces. If you simply can't fit a large table in your dining room or kitchen but require extra spots from time to time, just take out the extensions.
If you still have any doubts, let us remind you that these are high-quality mechanisms that provide a straightforward experience. All you need to do is glide the extension mechanism out , insert the leaves, and you've got a whole new table size. The leaves of our extendable round tables are not stored inside the table, so you will need to find a spot around the house to keep them.
Can you custom size your round tables?
Yes, the majority of our round tables sold are between 42" and 60". We have gone up to 72". The size of the table dictates the size of the base. So, if you opt for a larger table, the base should follow. Another thing you need to know is that the sander can only fit a 60" width, that's why a table larger than 60" needs to be textured top and cannot be smooth.
What wood, finish, and stains do you offer with your tables?
We offer these three types of wood: Maple (smooth or wormy), Oak, and Cherry. Maple is an all-time favorite for our customers. Wormy maple is the best option for you if you're looking to purchase an everyday table.  Our supplier Handstone furniture offers either Brushwork or Heritage Finishes.  Our other supplier offers a variety of finishes popular ones include Windswept and Handplanned.   We also offer a variety of stains.  We have all the woods, finishes and stain on display at our showroom.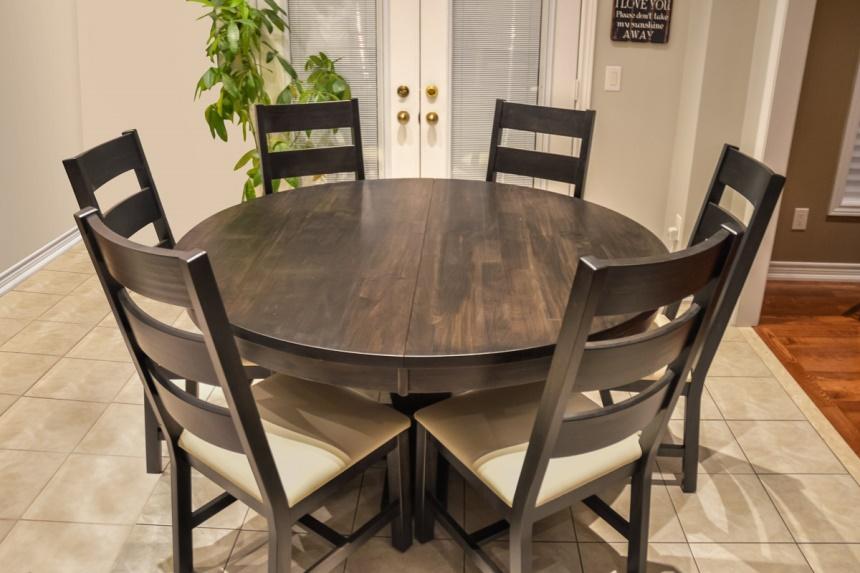 How durable is your round table? Can it be used as an everyday table?
As we mentioned above, maple is the wood of choice if you need an everyday round table. It belongs to the group of hard woods. This is a durable wood, but you still need to be careful to prevent damage and adequately protect the wood. You should use coasters, placemats or cloth, especially when putting down hot plates. Another solution is to add a glass top, so you won't have to worry about damaging it.
What is the largest round table that you offer?
If you're interested in a large round table, we typically go up to 60". We have gone up to 72", but the base should also be larger so that it can support the top. Since the sander can only fit up to 60" width, the top of your new larger table (beyond 60") will have to have a texture finish and it will not be able to be smooth.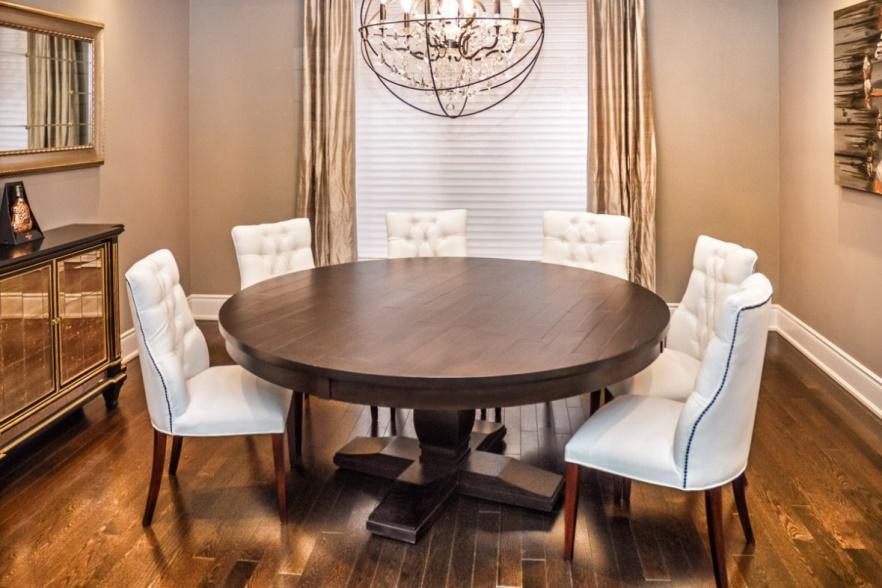 Should I get a square table or a round table?
There are no rules, just go for what you love! Both round and square tables are great for square rooms and fit well in small spaces.
What size round table seats 4?
When you need a round table for 4 you should go for a 40" size table. The size of your chairs will also impact the size of the table you'll need.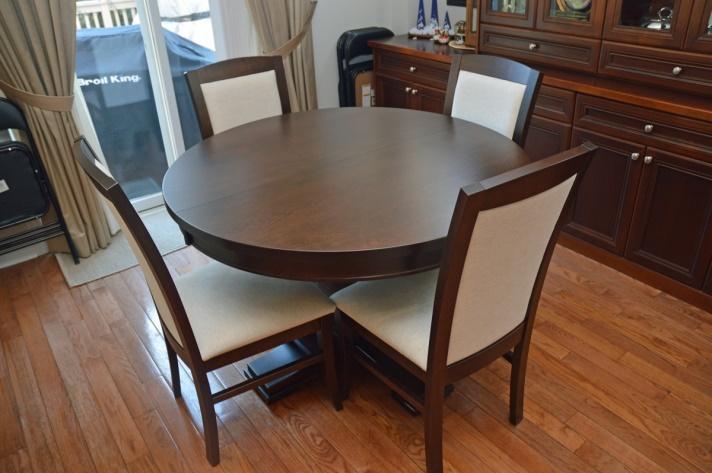 What size round table seats 6?
Typically, a 48" table is large enough to seat 5 to 6 people. Once again, the chair size will influence how many people the table will fit.
What size round table seats 8?
The table size you'll need for 6 to 8 people is 60". This also depends on the size of your chairs.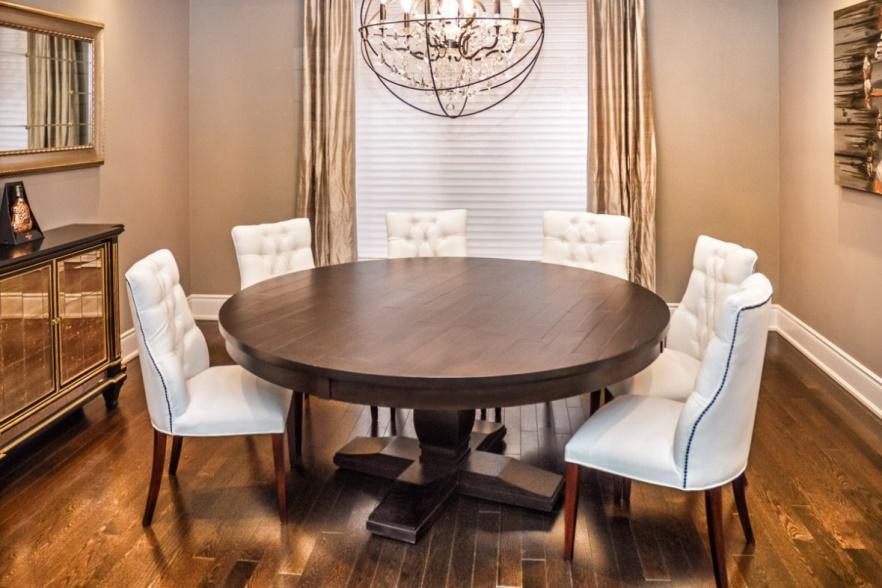 Who builds your round tables?
Our solid wood round tables are produced in Canada by the Mennonites. They have been making furniture for a very long time, so that's a guarantee that you'll receive a high-quality, durable product.
How do I take care of my round table?
The maintenance is straightforward; all you need is a damp cloth and a little Murphy's soap oil. Avoid using Pledge because it will attract dirt and dust. Finally, the best environment for these tables is a room where the humidity varies between 35 and 40%.
How long does it take to make the table?
The estimated waiting time is between 10 and 12 months from the day that you place the order. Don't let numbers persuade you to get one of these beauties for your home! You'll be getting a durable, timeless piece of art that is worth the wait.
When it comes to order updates, unfortunately we don't get any from the factory that produces the tables. Quality can't be rushed, and you can be 100% that you'll be getting exactly what you ordered! Once your table is ready we'll get in touch for the delivery details.
Can I get a discount?
What you see is what you get! We offer our best pricing upfront. Places that offer discounts pad their retail prices in order to afford their own discounts, but we don't play such pricing games. Solid-wood furniture should be considered an investment that will last for generations. You will feel much more satisfied over the long term than choosing the quick-fix of cheap particle board or veneer.
Conclusion
Round dining and kitchen tables are an excellent investment that will not only look fabulous in your home but also save you space, give you more legroom, deliver a more intimate atmosphere, keep the conversation going, and are perfect for game nights.
If you were wondering whether this is a type of table suitable for your home, we hope we answered all of your questions. Our representatives are always here to give you their advice and professional opinion.