If you have old, unused furniture at home, you may be searching for ways to get rid of it or reuse it. In this article, we talk about the most common ways you can get rid or recycle old furniture. Check it out!
Donate the Furniture
One of the easiest ways to get rid of old, unused furniture is to give it away. You can donate tables, sofas, and other furniture to charitable organizations that pick up furniture. It's a double-win for you: you get rid of your old furniture, plus you get to help other people. 
Not sure what kind of furniture to donate? Ones that have no major dents, rips, holes, stains, and other damages can be donated. You can donate to: 
Schools

Churches 

Community centers 

Shelters

Charities

Nonprofits

Secondhand shops 
Sell Them to Interested Buyers 
You can also have a garage sale to sell unused furniture in your house, along with other items that other people might find  useful. This helps you generate some cash while ensuring that your beloved piece of furniture gets a new home. You can also use the money to buy new household stuff. 
If yard sales aren't your thing, then try online selling. Facebook Marketplace has tons of interested buyers, while Craigslist and other similar websites let you sell to people from all over the country. Just make sure the furniture is in good condition, or users will bomb you with negative reviews. 
Trade Them for Other Stuff 
If you're lucky, you can get a much better piece of furniture in exchange for your old one. Some shops offer to trade old furniture in exchange for discounts on a new purchase. This works best if you already found the piece you like but can't quite afford its price. Don't be afraid to approach dealers, especially if your furniture is in good condition. 
Refinish or Reupholster 
If you're not using a piece of furniture but not quite ready to let go of it yet, then refinishing or reupholstering it may be a great solution.  
First, check the best materials for your furniture. For instance, couches and chairs often have linen, cotton, and leather upholstered into them. Other furniture can be made of metal or wood.
Depending on the materials, seek the help of a restoration professional and breathe new life to your old furniture. You can also sometimes revive the beauty of your furniture by repainting it or giving an artful vintage new finish. If you know how to reupholster, make sure to use fresh new fabric. 
Repurpose or Recycle 
Apart from refinishing and reupholstering, you can also repurpose furniture. Here are some creative examples to inspire you: 
Use an old ladder as a towel rack 

Reusing an old door as a bed headboard

Using old lockers as shoe storage

Repurposing travel trunks as center or bedside table 
You can also recycle various materials from your furniture. With some creativity, you can turn the wood, metal, or linen of your old furniture into something new and more useful to your house. You can check Pinterest and other websites to gain inspiration on how to recycle various furniture. 
Every homeowner wants beautiful interiors in their house. And no interior is complete without the perfect furniture. 
But with so many furniture manufacturers out there selling different types of furniture, it can be hard to determine what is quality and what is not, especially if you are new to furniture shopping. Lucky for you, this article will help you tell what good quality furniture is from poor ones. 
What Is It Made Of?
The first thing for you to determine quality furniture is the material used for its construction. The best type is solid wood. But plywood is okay, too, if it uses at least nine layers.
Bach then, veneer was considered low quality. But due to innovations in furniture manufacturers, it can just be as good as solid wood furniture at a much lower price. Manufacturers construct veneers by covering a wood base with several layers of thin high-quality wood. If the wrapping is thick with no signs of warping, it should last long like solid wood furniture.
Furniture constructed with particleboards, fiberboards, or thin plywood is typically a sign of low-quality furniture. 
How Is It Constructed?
The second thing you need to determine is the construction of the furniture. So, look at the joints and corners of the item. Quality furniture is joined, not nailed.
Any furniture that uses only staples, nails, and glues is a sign of inferior craftsmanship. Quality furniture uses pegs, dowels as well as dovetails. 
And corners need a reinforcing lock, while large pieces need a crossbar for bracing.
Is It Upholstered?
For sofas, loveseats, and chairs, ensure that they have zippers so you can remove the cushions when you clean them. 
Foam materials need to be solid and not in chips. And lined with a protective covering of muslin or cotton. Seams need to be strong also and have no signs of loose thread. Quality furniture will also have tags showing instructions on how to clean them.
Are There Metallic Elements?
If the furniture uses metallic parts in its construction, there are a few things you need to determine. Manufacturers of quality furniture wield free-floating items like arms and metal legs with no signs of cracking. 
If you want to buy multiple metallic pieces of furniture like chairs, they would need to be in a uniform style, height, and shape. Discrepancies are a sign of poor quality unless intended.
If chromed, they should be evenly polished from top to bottom.
It's all in the Details
Lastly, determine the overall craftsmanship of the furniture. And take a look at all the elements closely. Are the legs wobbly, or are the doors unbalanced? Is the fabric evenly sewn? Does the upholstery have bumps or runs? It's essential to ask yourself these questions before buying any furniture.
Conclusion
Whether you are buying new furniture for your new house or renovating, quality furniture is a must to get the most of your money. So before you go to the furniture shop, remember what you've read today. And share this with your friends. So they know how to tell quality furniture from poor ones.
Are you looking to start an outdoor or interior furniture project? What better material to go with than wood. Wood has been a staple in the furniture-making industry for centuries. Its diversity and immense benefits make it a popular choice for many to date, not to mention the natural feel wood gives to a space. And while wood effortlessly slots into any setting, your selection should be driven by more than just appearance. Understanding the range of colors, density, grain, finishing, and maintenance requirements of different wood species will help you filter your way down to the best-suited type for you and your needs. We look at five of the best types of wood for furniture available in the market today.
5 Top Of The Line Wood Species For Your Furniture
Mahogany
Mahogany is one of the most delicate wood species, famous for its sturdiness and rich color. Widely native in the tropics, mahogany sports straight grain, a medium texture, and weighs moderately heavy. The Mahogany tree grows to astounding large sizes, producing large boards suitable for household and commercial furniture. If you're looking to create antique furniture pieces that you can pass down for generations to come, mahogany is the way to go. 
Oak
Elegance, diversity, and durability are all wrapped up in one- that's the oak furniture package. With over 600 species spread out across the northern hemisphere, oak makes dynamic furniture pieces that are remarkably strong. The swirly and striped grains make oak stand out with its tone stretching from light brown to red, fitting for both Scandinavian and rustic themes. Given the proper finishing, oak furniture can serve you a lifetime, not to mention its scratch and stain-resistant features.
Maple
Maple trees are synonymous with great lake regions; this creamy to white wood species is relatively strong and durable- the climatic conditions of maple trees' native area make them hard and resistant to splitting. Maple trees being versatile, range from wormy to ambrosia, making them perfect for various functions, from wooden furniture works to heavy traffic flooring. The forgiving texture of wormy maple means it's low maintenance, thus ideal for a young family. Maple wood also notably takes well to staining and all types of finishes.
Walnut
Walnut boasts varying white to dark brown hues. The moderately open walnut grain makes the wood reasonably light; however, it can take a beating, thriving just as well under high impact. If you're looking to incorporate a dash of darkness and character into your already airy space, a Walnut furniture piece might be just what you need. Walnut also impressively works into ornate woodworking masterpieces perfectly. Consider walnut for your home if you're down for a bold or moody touch to your space.
Cherry
Cherry trees give us a stunning scratch-resistant number. Ranging from a luscious pinkish-red hue to reddish dark brown, American cherry timber is always a top furniture go-to. Cherry tree wood is moderately hard; its hardwood stiffness and strength guarantee you years of use. Rich-colored cherry wood is generally best for all-around furniture making and steams relatively well. Your cherry furniture is bound to darken with exposure to sunlight, so opt for this beauty for your outdoors, farmhouse, or cottage. Have we mentioned that it's non-toxic?
Bottom Line
Wood isn't just wood; several variable features come with each type. The question of how durable, sustainable, or sturdy a piece of furniture is are some of the primary factors one looks into before investing in a piece of furniture for their home. Your household needs may not align with industrial standards for wood; therefore, digging into the characteristics to find the perfect fit for you is always the intelligent alternative. Happy shopping.
Having a visual plan of how your latest furniture piece will fit into your space is quite natural; however, its technicality is far more complex. Avoid the frustration of finding out that furniture piece you are oh so in love with can't fit through your doors by premeditating the whole process. We advise working your measurements down to the last detail rather than an estimated mental calculation of your space and entry space. How so?

Assess the item's dimension
Be it a rustic bookcase, desk , or a dining table you have your eyes on, there's only one cardinal rule-measure it! Eye-balling, the dimension of your furniture pieces, is only setting yourself up for disappointment.  Log onto our website for published length, width, height, and diagonal measurements for accurate sizing of your furniture items before your purchase.
Consider available space
Sure, a chest of drawers might look good in your bedroom, but do you have the space to accommodate it? No doubt you already know where you intend to place your new furniture addition- that's half the job done. The next crucial step is to refer to the item's width, depth, and height connotation from our website and map out those measurements on your floor using painter's tape. Taping out the space you're working with to scale guarantees the perfect fit.
A Step-by-step Guide to Measuring Entry Points for Your Furniture Delivery

When it comes down to furniture deliveries, passageways that are too narrow, too low, or too tight can be your undoing if not worked out sooner. We advise noting down all the passages your furniture pieces have to go through to get to your doorstep; doorways, elevators, hallways, stairways, you name it. So, how do you measure all that?

Doorways
Jump right into measuring the length and width of the doorway(s) you intend to use for delivery and compare them against the furniture dimension. For pieces like sofas and chairs, the diagonal length should be less than the actual width of the doorway. You also test to see how wide your doors can open and look out for any architectural details that can hinder movement and access.

Stairways
Primarily, how wide is your stairway? Are there any present banisters, handrails, or posts that can impede the entry of the furniture piece? Is the height from the bottom and top step of the staircase to the ceiling accommodating of your new furniture's height? How is the stairway landing- is it sturdy and wide enough? All these are details you should look into when your home has a stairway.

Hallways
Hallways are pretty straightforward; measure your hallway's width and floor to ceiling height, taking into account all the twists and turns present. Also, be wary of any low-hanging fixtures and overhead architectural designs that might stand in the way of your delivery.

Elevators
 For homes and apartment complexes with elevators, the rules are a bit different. The elevator's interior height and width matter; additionally, you should consider the opening capacity and distance to the opposite wall.

Prepping for your furniture delivery

While we take on most of the heavy lifting for you, several specifications will require you to step in. Upon scheduling your delivery, you'll have to communicate with the us on the specifics like road navigations, delivery time stipulations by local ordinances, gate entry, and insurance details.
Our Unlimited Furniture Delivery covers most furniture items and select non-furniture items extending into unpacking, assembly, and placement of your items to your convenience. However, we do not handle electrical equipment or re-organizing your pre-existent furniture. Therefore, it is up to you to pave the way for the white glove delivery service professionals to set aside any artwork, low-hung fixtures, and pets for a smooth delivery experience.

Wrapping up
Measuring and prepping for furniture delivery can seem like a lot, but it sure is worth all the hassle. I can't imagine myself making several trips to the store to get the right furniture piece for my household, only for it to get stuck in the elevator, or worse, dented and grazed on the staircase. Measuring furniture delivery is undeniably life-changing, not to mention convenient. All you should do is log online, and voila, you're good to go!
If you are looking to invest in some new furniture, Canadian made Mennonite furniture can be a great choice. Mennonites have been making furniture for generations and are masters at their craft! They use solid, locally sourced wood and cutting-edge technology with generations of experience to ensure impeccable craftsmanship. Also, because you'll be buying locally, you'll also get some extra bang for your buck in better craftsmanship rather than having that money going to the cost of shipping.
Why buy a Mennonite built dining or kitchen table?
Mennonite dining and kitchen tables are a work of art. Each table is built from solid wood and can be custom sized to fit your space perfectly. You can further customize your table by picking a stain and finish that adds to your existing décor.
While some view Mennonite furniture as outdated, we have many designs including tables with a modern look and feel. The craftsmanship is seamless and clean, without the use of nails. A quality extension method is used, and if you chose center leaves then two can be stored in the table.
The Mennonites finishing process is achieved with a great deal of time and skill. Through a meticulous process of preparation, dying and staining, sealing, varnishing, and polishing. The end result is a durable clear and vibrant finish that shows off the wood grain. That means your furniture will look great and last a lifetime and beyond. Also, because the furniture is made from solid wood and not particle board, if it does get marked up over time, you can refinish it and it will be like a new table.
How much does a typical Mennonite table cost?
Great décor and furniture help turn a house into a welcoming home. The typical investment for one of our tables is between $2300 to $3000. How do we achieve pricing this competitive? It is achieved because of our unique boutique showroom, and our by appointment only model. Our tailored and streamlined approach helps us reduce our costs, provide a customized experience and pass on any savings to you.
Why buy a bed or storage bedset from the Mennonites?
With the Mennonite each solid wood bed is unique.  You spend a lot of time in your bedroom so it's nice to have a good looking bed.   We tend to find people buy beds from themselves last, but when they do finally make that investment they really appreciate it.
If you buy the beds for your kids you are investing in quality, but instead of the beds ending up in a landfill it's a quality piece that they can take with them.  We recommend getting a Queen if your kid's room can fit it, as it's something that they can take with them
The solid wood dressers and storage beds feature four-corner English dovetail drawers, full-extension drawer glides and are stained and varnished drawer interiors.  They feature nice deep drawers. You can select from the many hardware choices the supplier offers
You can customize the size to fit a certain space.  That can be a real advantage if you need to fit a certain space.  Or sometimes customers can make slimmer nightstands so that their room can accommodate a king bed.
How much does a typical bed or storage bed from the Mennonites cost?
Just like tables, beds are also created with the best craftsmanship in mind. The same tailored and cost reducing approach is applicable to Mennonite bed sets. For a typical King panel, you should expect to invest around $2,200, while nightstands are around $750 each, and an 8-drawer dresser around $2,150. With these amounts in mind you can expect to pay somewhere around $5,850 plus HST, plus a delivery and set up fee of $180. For a storage bed you would be looking at an investment of $3,000 plus HST with an additional $180 for delivery and set up.
Why buy a chair built by the Mennonites?
Chairs built by Mennonites are made of solid wood and quality fabrics and genuine leather and come fully assembled. The Mennonites make our chairs the traditional way with true craftsmanship using solid wood pieces, mortise and tenon joints, and with strong, thick corner braces. Each chair is beautifully crafted, comfortable, and sound – a unique piece.
Unlike imported chairs which are basically slapped together and will be thrown away after a few years, the chairs are sturdy, durable, and long lasting. Imported, knock-down, chairs are usually made of wood that is quite soft and their legs are bolted on. This means that the bolts usually fall out and they are quite unstable and do not last very long.
Buying Mennonite made chairs also means that your chairs will match your set. The table and chairs will be stained together and will be matching, bringing your dining furniture together nicely. Because we know that chairs are an extra expense, we are very competitive with our pricing. When buying the Mennonite built chair from Anne Quinn, you can expect great value.
What type of wood and finish do you offer?
Furniture made by the Mennonites are made from the best selected wood of Maple, Oak and Cherry. Furthermore, they have a variety of finishes and stains including brushwork, heritage and windswept.
Where is your suppliers located?
Our supplier is in Kitchener, Waterloo in a town called Wallenstein. It is reassuring to know that your furniture is being built locally. Due to our close relationship with our suppliers, quality is assured, and you are supporting local communities. Furthermore, all the wood used by Mennonites in their furniture is sourced locally from Ontario in sustainable forests.
How long do orders take?
It typically takes the Mennonites 12-14 weeks to build a furniture piece. The wait time is worth it, however. Our tailored approach allows us to provide you with a quality, solid-wood product, exceptional savings, and the ability for you to order exactly what you desire.
What is the warranty and how do I care for my Mennonite built furniture?
We offer furniture from four different Mennonite suppliers.  Each of them offer different warranties.  Handstone is our main supplier and they offer a 10-year warranty. Our other Mennonite furniture suppliers offer a 2 year warranty. We pride ourselves on delivering the highest quality products. Our business is based on satisfied customers and word of mouth referrals, so if you ever have an issue we will take care of you.
You should also take additional steps to maintain your furniture. You should clean your furniture with a soft, lint-free cotton cloth. The cloth should also be dampened with water or matching the pattern of the grain. Make sure to use a light touch and change your cleaning cloth frequently. Avoid using a dry cloth as it can scratch your furniture.
You can also protect your furniture by maintaining the proper humidity. You should use a humidifier and keep the humidity around 35% – 40%. Additionally, you should avoid placing glass, or a hot plate or dish directly on your furniture. Always use a cloth or coaster. However, because Mennonite furniture is solid wood, you can always have it refinished and it will be good as new!
Who should not buy Mennonite furniture?
While Mennonite furniture is great, there are cases where it may not be the best option. If you are working with a tight deadline, then Mennonite furniture may not be right for you. Due to the craftsmanship of Mennonite furniture, deadlines are often not fixed, and it does take some time for the furniture to be completed.
If you are looking for uniform, cookie-cutter furniture then Mennonite furniture may not be right for you. Because Mennonite furniture is made from solid wood and hand crafted and therefore is not uniform. If you're looking for identical looking furniture then machined, veneered furniture may be a better choice for you.
Who should buy Mennonite furniture?
Anyone who is looking for stylish, beautiful, solid-wood furniture for an amazing price is a welcome customer. Also anyone who needs to customize pieces to fit their space. Our ideal customer appreciates the beauty of solid wood furniture and realizes the incredible value we provide.
Great, I'm convinced. What are the next steps?
The first step is to look at our website for a style that you like.  After that contact us and we will send you pricing.  If you are okay with the pricing and the wait time, the next step is to book an appointment to visit our showroom.  We look forward to meeting you in person!
Have you been eying our gorgeous round tables for a while now? If you're not quite sure whether a round dining or kitchen table is a good match for you, you've come to the right spot.
This table shape is so unique, looks fabulous wherever you place it, plus comes with a ton of other advantages. Below, you can get familiar with the reasons why you should purchase a round table, how to choose the right size, and find the answers to all the questions that might come to mind.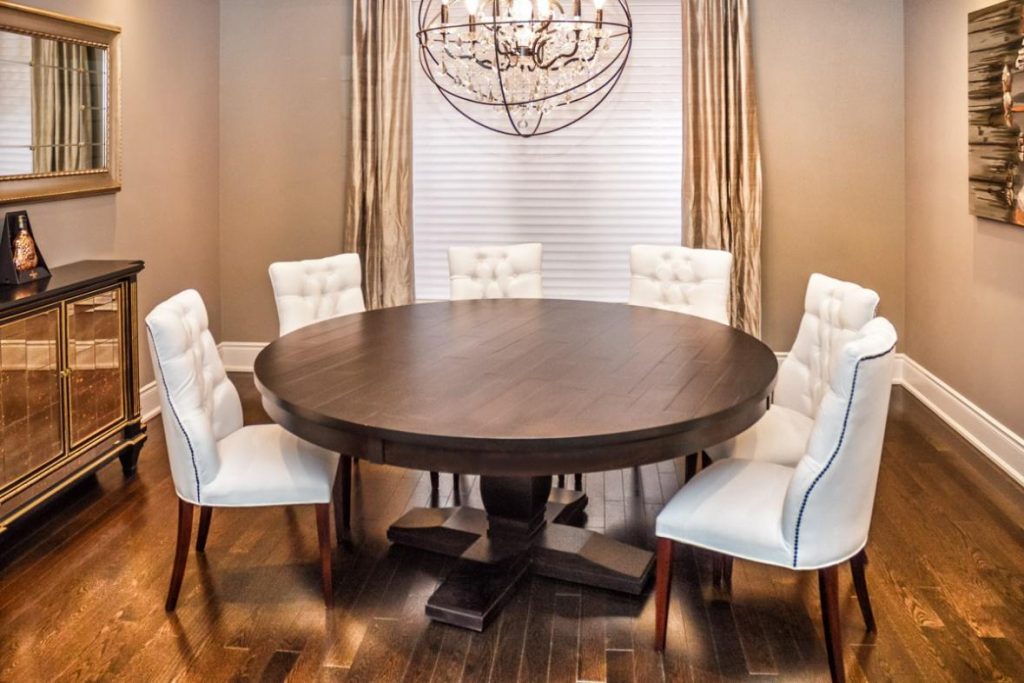 6 Reasons Why A Round Table Might Work Better For You
You've been thinking about getting a round table for a while, but you're not 100% convinced? Go over these pros below, and you'll see that it's the best decision you'll make. This table shape might not be as common as rectangular, but you should use that to your advantage.
Conversation-starter: Don't you hate it when you can't hear people talking while you're having dinner? This will never be a problem if you go for this table shape. Everyone is equally distanced from each other, so you'll always be a part of the conversation!
Space-saver: These tables work best in square or close to square rooms. If are working with a square space, this table shape is ideal for you!
Kid-friendly: Round tables don't have sharp edges, so if you have energetic toddlers at home, your table will not be a hazard.
More legroom: Round tables come with a single base. That leaves more legroom for everyone and a more comfortable experience.
Game night: These tables are ideal for gatherings with your friends. Take out the board games, cards, snacks, and you're ready to go.
Less crowded: when you opt for a round dining or kitchen table, the food and the guests are equally spaced apart. Everyone will feel less crowded, and you'll find it much easier to reach the food and drinks.
How To Choose The Right Size
To figure out which is the right size table, you need to know the room's size and the number of people that will sit on the table. The estimated space that each guest needs to feel comfortable while sitting on the table is between 24 and 30 inches. You don't want to end up bumping elbows with your family while having lunch.
To answer the question, a 40" table will fit 4 people, a 48" table will fit 5 to 6 people, and a 60" table will fit between 6 and 8 people.
Tables larger than 72" are an option, but they don't offer the intimacy and the comfort smaller sizes do. You might find it hard to reach for food and drinks while seated at a large table. Thankfully, our round tables are extendable, so you get a chance to get more than one size in a single table.
FAQs
Can you add extensions to your round tables?
Yes, we offer the option to add extensions to your table. You can get up to three extensions, each one 12". It all depends on what you need and the size of your family. Don't forget that adding multiple extensions means using a more extensive base. Most table sizes are fine with two extra extensions, but if you add more, they can get tippy. If you need help with your choice, reach out to our representatives, and you'll get all the answers that you need.
What is the advantage of adding extensions?
Let's start with the most obvious one- extra space! If you have friends and family coming over, you can get a round table for 6 or a round table for 8 in a matter of minutes. For example, if you own a table for 4, add two 12" center extensions, and voila, it will fit 6 people!
Another reason why an extendable round table is a good idea is if you're planning on expanding your family. If the initial size works better for the space, but you'll probably need an extra seat or two, here's the best solution.
Extensions are fantastic for smaller spaces. If you simply can't fit a large table in your dining room or kitchen but require extra spots from time to time, just take out the extensions.
If you still have any doubts, let us remind you that these are high-quality mechanisms that provide a straightforward experience. All you need to do is glide the extension mechanism out , insert the leaves, and you've got a whole new table size. The leaves of our extendable round tables are not stored inside the table, so you will need to find a spot around the house to keep them.
Can you custom size your round tables?
Yes, the majority of our round tables sold are between 42" and 60". We have gone up to 72". The size of the table dictates the size of the base. So, if you opt for a larger table, the base should follow. Another thing you need to know is that the sander can only fit a 60" width, that's why a table larger than 60" needs to be textured top and cannot be smooth.
What wood, finish, and stains do you offer with your tables?
We offer these three types of wood: Maple (smooth or wormy), Oak, and Cherry. Maple is an all-time favorite for our customers. Wormy maple is the best option for you if you're looking to purchase an everyday table.  Our supplier Handstone furniture offers either Brushwork or Heritage Finishes.  Our other supplier offers a variety of finishes popular ones include Windswept and Handplanned.   We also offer a variety of stains.  We have all the woods, finishes and stain on display at our showroom.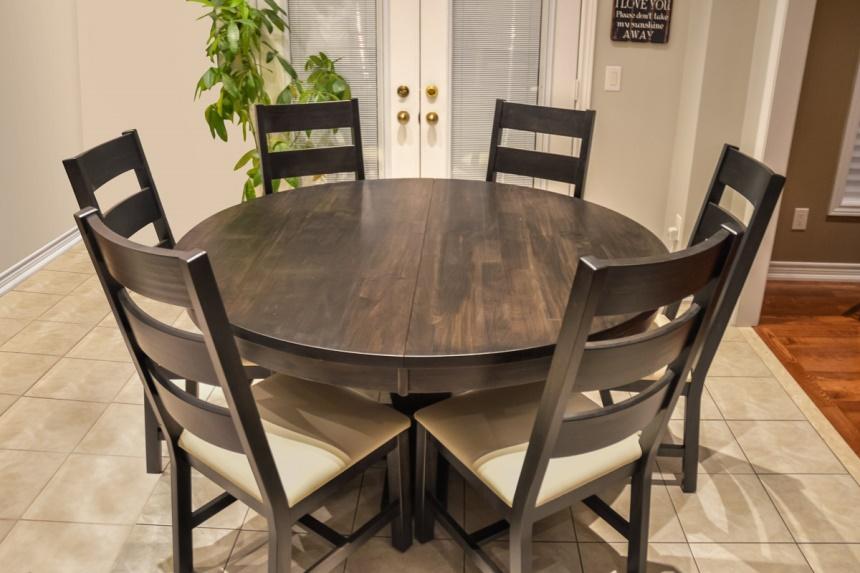 How durable is your round table? Can it be used as an everyday table?
As we mentioned above, maple is the wood of choice if you need an everyday round table. It belongs to the group of hard woods. This is a durable wood, but you still need to be careful to prevent damage and adequately protect the wood. You should use coasters, placemats or cloth, especially when putting down hot plates. Another solution is to add a glass top, so you won't have to worry about damaging it.
What is the largest round table that you offer?
If you're interested in a large round table, we typically go up to 60". We have gone up to 72", but the base should also be larger so that it can support the top. Since the sander can only fit up to 60" width, the top of your new larger table (beyond 60") will have to have a texture finish and it will not be able to be smooth.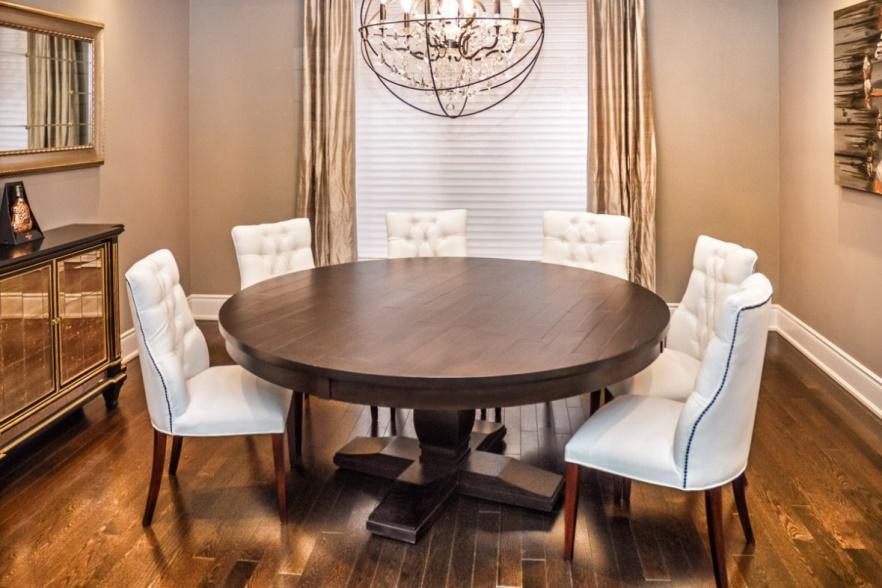 Should I get a square table or a round table?
There are no rules, just go for what you love! Both round and square tables are great for square rooms and fit well in small spaces.
What size round table seats 4?
When you need a round table for 4 you should go for a 40" size table. The size of your chairs will also impact the size of the table you'll need.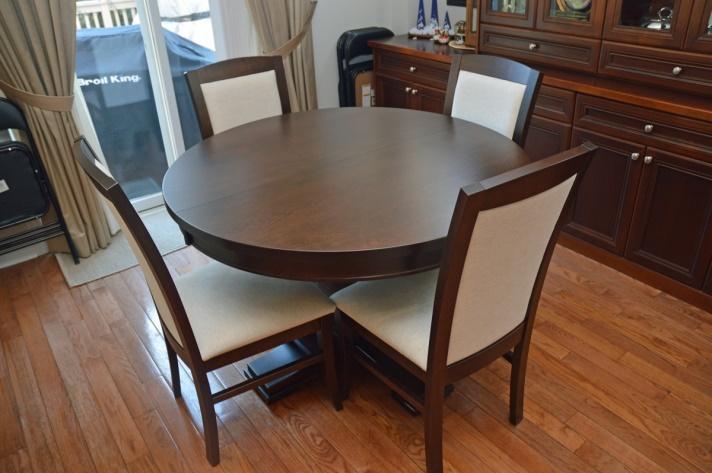 What size round table seats 6?
Typically, a 48" table is large enough to seat 5 to 6 people. Once again, the chair size will influence how many people the table will fit.
What size round table seats 8?
The table size you'll need for 6 to 8 people is 60". This also depends on the size of your chairs.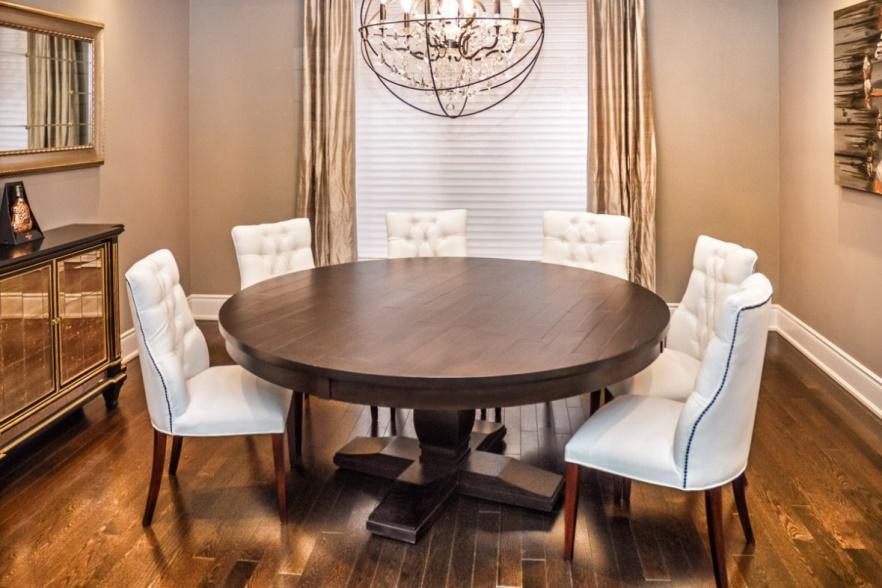 Who builds your round tables?
Our solid wood round tables are produced in Canada by the Mennonites. They have been making furniture for a very long time, so that's a guarantee that you'll receive a high-quality, durable product.
How do I take care of my round table?
The maintenance is straightforward; all you need is a damp cloth and a little Murphy's soap oil. Avoid using Pledge because it will attract dirt and dust. Finally, the best environment for these tables is a room where the humidity varies between 35 and 40%.
How long does it take to make the table?
The estimated waiting time is between 10 and 12 months from the day that you place the order. Don't let numbers persuade you to get one of these beauties for your home! You'll be getting a durable, timeless piece of art that is worth the wait.
When it comes to order updates, unfortunately we don't get any from the factory that produces the tables. Quality can't be rushed, and you can be 100% that you'll be getting exactly what you ordered! Once your table is ready we'll get in touch for the delivery details.
Can I get a discount?
What you see is what you get! We offer our best pricing upfront. Places that offer discounts pad their retail prices in order to afford their own discounts, but we don't play such pricing games. Solid-wood furniture should be considered an investment that will last for generations. You will feel much more satisfied over the long term than choosing the quick-fix of cheap particle board or veneer.
Conclusion
Round dining and kitchen tables are an excellent investment that will not only look fabulous in your home but also save you space, give you more legroom, deliver a more intimate atmosphere, keep the conversation going, and are perfect for game nights.
If you were wondering whether this is a type of table suitable for your home, we hope we answered all of your questions. Our representatives are always here to give you their advice and professional opinion.
Chances are if you've come to Anne Quinn furniture you're already thinking about buying local solid wood made in Canada furniture. As a furniture business that started out importing furniture from Indonesia and now ONLY sells made in Canada furniture I'm telling you are making the right decision buying local.
High-Quality Furniture
With imported furniture a large part of the cost, is shipping, packaging, stocking and storing inventory and paying for damaged products. The cost of the import furniture is lower (because of cost of the cost of labour) but when you factor in the additional expenses the price of the import isn't much less expensive than buying locally.
In contrast with local made in Canada furniture the majority of the costs are for the quality lumber and the craftsman to make the furniture.
Also, with the imports the goal is to ship as much furniture into a small space as possible. So, the goal is to create knock down furniture. An example, is a dining chair where the legs are bolted on instead of a fully assembled chair that made here with mortise and tenon joinery. If you compare the work and craftsmanship of a local piece compared to an import there really is no comparison.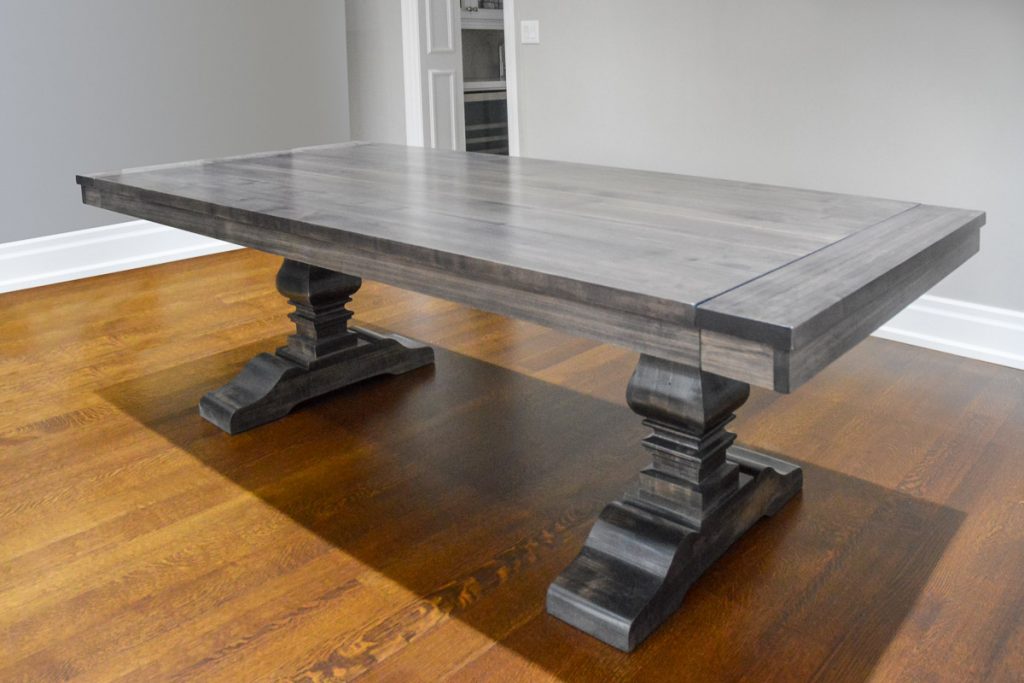 The imports often also rely on building their pieces with particle board and veneers instead of solid wood. Solid wood that comes from other countries to Canada needs to acclimatize to our dry Canadian winters and hot humid summers which can cause issues with warping and or cracking. If you compare the natural beauty of solid wood to a plastic looking veneer there really is no comparison.
An added bonus with local is if there is an issue, you contact us and we will bring the piece back to the supplier (that is a couple hours away, not half way around the world) to fix it.
Going local allows for customization
High-quality furniture lasts for a lifetime if you take proper care of it. And if you're going to own a piece of furniture for that long, its style and design should be something you can call your own.
When you buy Canadian-made furniture, you'll love the high degree of customization that we offer. From size to stain to finish. You can truly make a piece of furniture that not only fits your space perfectly but its style is unique to you.
Supporting the Environment
Choosing locally-made furniture also means you contribute to sustainable and environmentally friendly furniture production.
Our suppliers use eco-friendly materials to create the perfect furniture for you. These materials include:
• Responsibly harvested maple, cherry, and oak
• Organic cotton fabrics
• Solid wood with no veneer or particle board and synthetic glue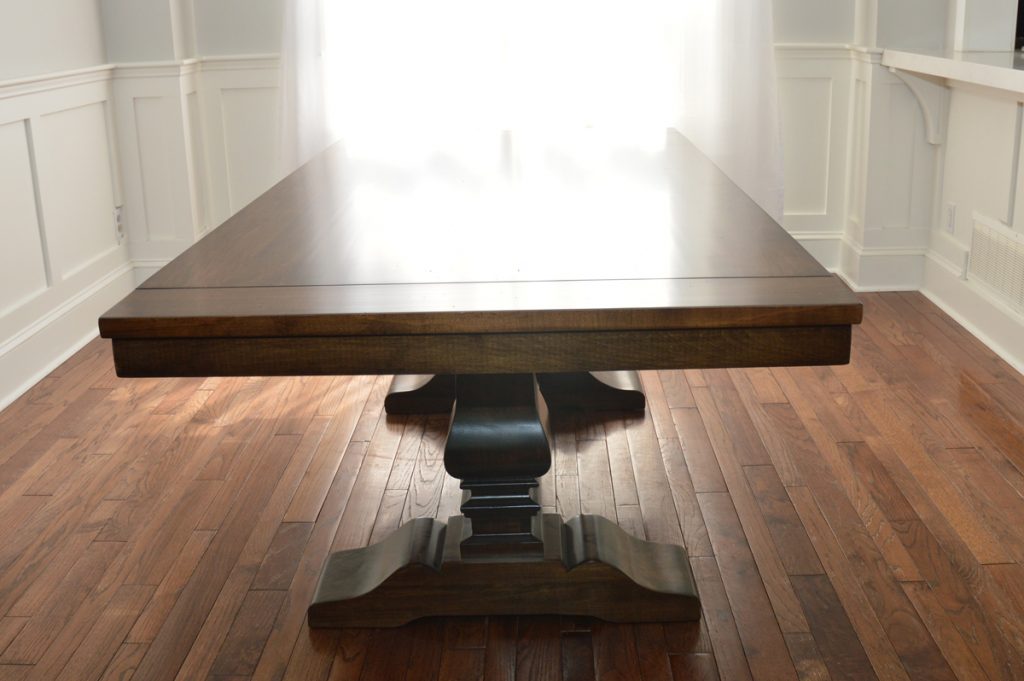 Also, the government supports the eco-friendly movement. Logging restrictions are much stricter in Canada than in other major countries.
Transportation also plays a role. Buying overseas means more you or the manufacturer will transport the product and use more resources.
And transportation like this is one of the major causes of global warming. Ships generally produce a large amount of carbon dioxide.
According to EU data, international shipping accounts for 3.15% of carbon dioxide transport emissions in 2017.
When you buy furniture locally, you help alleviate the environment's problems; you help protect the environment while also getting a perfect piece of furniture.
Supporting the local Economy
The Canadian furniture industry is 97% Canadian-owned. Most of them are small or medium-sized, family-owned businesses.
When you buy local, you don't only support a significant portion of the Canadian economy; you also support the families and workers working in those Canadian-owned manufacturers.
With COVID, our local suppliers are busier than ever. More people are realizing the importance of buying local.
Better Community
Buying local also fosters a greater sense of community both for the buyers and the manufacturers.
As mentioned, the vast majority of Canadian manufacturers are family-owned and operated (just like us!). So when you buy from these manufacturers, your purchase supports the family.
You can then rest assured that we will take care of your furniture needs with a sense of close relationship in mind.
You'll enjoy a more personalized customer service experience, which is something you can't easily achieve when you buy furniture overseas.
That's also why Canadian furniture is always on style wherever you put them. Canadian designs range from classic style to modern, and will always be in style whatever the year is.
Buying Furniture Made in Canada
Overall, the advantages of choosing Canada-made furniture over imported ones include better value, superior quality. You also support the environment and the economy. Our suppliers being busier than ever makes me believe that more and more people understand the benefits in buying local Canadian made furniture.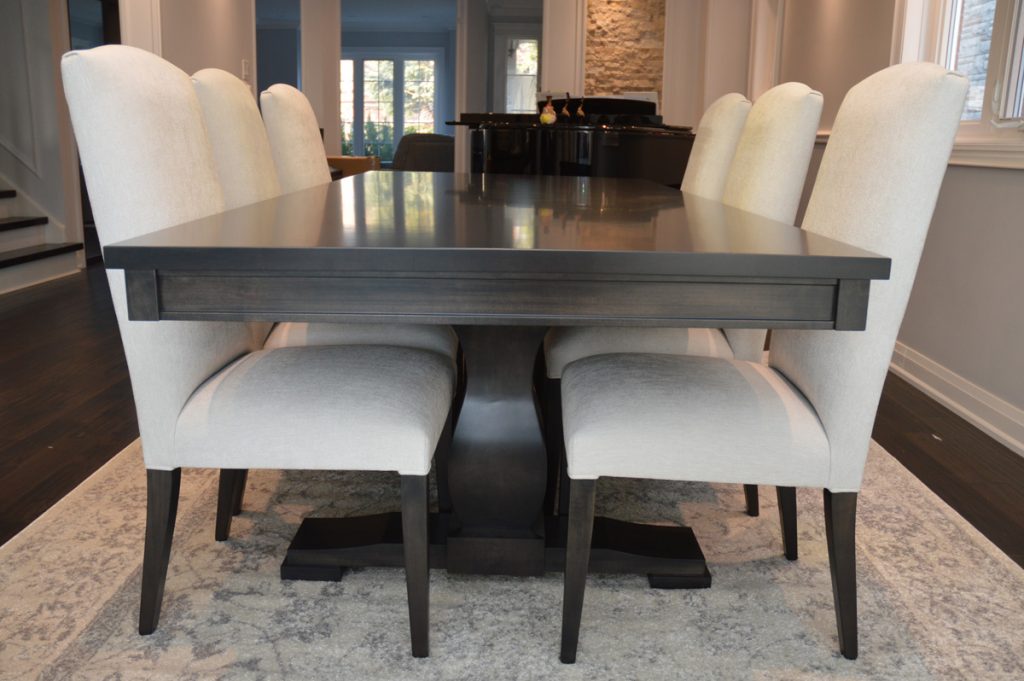 If you're searching for the best furniture around, look at Canadian furniture stores first. Not only are you going to enjoy the superb quality, but you'll also be doing something bigger than simply buying a piece of furniture.
Why Choose Anne Quinn
If you're sold to buying locally-made furniture, Anne Quinn will be a great choice for you.
Anne Quinn isn't your average furniture retail store; What we offer is solid wood, handcrafted furniture at our showroom in Markham. There we showcase the best in classic and modern furniture in Canada. We keep the quality high and the overhead low. We pass on that savings to you. You, our consumer, is what we care about the most. We look forward to meeting you in person.
Visit our contact page to setup an appointment today.